New Additions
New Additions to the Best Seller Shelf SCROLLING BELOW ARE THE MOST RECENT ADDITIONS TO THE LIBRARY. CLICK ON YOUR COVER CHOICE TO GO DIRECTLY TO THE LIBRARY CATALOG FOR THAT ITEM.
CAMP WOOD PUBLIC LIBRARY
New Additions to the Best Seller Shelf
December 15, 2021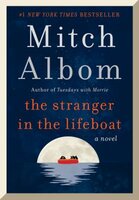 The Stranger in the Lifeboat by Mitch Albom: What would happen if we called on God for help and God actually appeared? In Mitch Albom's profound new novel of hope and faith, a group of shipwrecked passengers pull a strange man from the sea. He claims to be "the Lord." And he says he can only save them if they all believe in him.
The Epic Rivalries and Heroic Science behind the Race to the Coronavirus Vaccine by Brendan Borrell:
Heroic science. Chaotic politics. Billionaire entrepreneurs. Award-winning journalist Brendan Borrell brings the defining story of our times alive through his reporting on the players leading the fight against a vicious virus.
The Dark Hours by Michael Connelly:
In the fourth book of the series, LAPD detective Renee Ballard must join forces with Harry Bosch to find justice in a city scarred by fear and social unrest after a methodical killer strikes on New Year's Eve.
Fortitude:
American Resilience in the Era of Outrage by Dan Crenshaw:Our society is more fragile than ever: exploding with outrage, drowning in microaggessions, and devolving into divisive mob politics. The American spirit--long characterized by grit and fortitude--is unraveling. Fortitude is a no-nonsense advice book for finding the strength to deal with everything from menial daily frustrations to truly difficult challenges. More than that, it is a roadmap for a more resilient American culture.
The Brides of Maracoor by Gregory Maguire:
The first in a three-book series spun off the ironic Wicked Years, featuring Elphaba's granddaughter, the green-skinned Rain. This volume finds Rain washing ashore on a foreign island. Comatose from crashing into the sea, Rain is taken in by a community of single women committed to obscure devotional practices.
Mitch Rapp: Enemy at the Gates by Kyle Mills for Vince Flynn:
Mitch Rap, the CIA's top operative, searches for a high-level mole with the power to rewrite the world order in this riveting thriller, #20 in the series.
We Are Not Like Them by Christine Pride:
Told from alternating perspectives, an evocative and riveting novel about the lifelong bond between two women, one black and one white, whose friendship is indelibly altered by a tragic event--a powerful and poignant exploration of race in America today and its devastating impact on ordinary lives.
The Attic on Queen Street by Karen White:
Return to the house on Tradd Street for one last time as the bestselling series featuring psychic medium Melanie Trenholm comes to a hauntingly spectacular finale.