New Additions
New Additions to the Best Seller Shelf SCROLLING BELOW ARE THE MOST RECENT ADDITIONS TO THE LIBRARY. CLICK ON YOUR COVER CHOICE TO GO DIRECTLY TO THE LIBRARY CATALOG FOR THAT ITEM.
CAMP WOOD PUBLIC LIBRARY
New Additions to the Best Seller Shelf
May 1, 2022

One Damn Thing After Another by William P. Barr:
The former attorney general provides a candid account of his historic tenures serving two vastly different presidents, George H.W. Bush and Donald J. Trump.
The Wedding Veil by Kristy Woodson Harvey:
This sweeping new novel follows four women across generations, bound by a beautiful wedding veil and a connection to the famous Vanderbilt family.
Beautiful by Danielle Steel:
A renowned supermodel's world is torn apart in an instant, sending her on an unexpected journey of discovery in this masterful novel.
A Family Affair by Robyn Carr:
When her husband dies suddenly, Anna McNichols' carefully constructed world falls apart. As she puts her life back together, she realizes the McNichols may not be perfect but they'll always be family, and family is forever.
Medlar Mystery: A Relative Murder by Jude Deveraux:
Bestselling novelist Sara Medlar is skilled at sharing stories about other people, but she hoped the truth about her own family would never surface.
Brighter by the Day: Waking Up to New Hopes and Dreams by Robin Roberts:
From the beloved host of Good Morning Robin Roberts, a guide to instilling hope and optimism into readers' lives, infusing their days with positivity and encouragement.
Leaphorn & Chee: The Sacred Bridge by Anne Hillerman:
Sergeant Jim Chee's vacation to beautiful Antelope Canyon and Lake Powell has a deeper purpose. He's on a quest to unravel a sacred mystery his mentor, the Legendary Lieutenant Joe Leaphorn, stumbled across decades earlier. 
Delphine Jones Takes a Chance by Beth Morrey:
This heartening and life-affirming novel is about a single mother learning to make a bigger life, and the power of human connection to grow our worlds.
Letty Davenport: The Investigator by John Sandford:
Letty Davenport, the brilliant and tenacious adopted daughter of Lucas Davenport, takes the investigative reins in the newest thriller from bestselling author John Sandford.
April 18, 2022
Joe Pickett: Shadows Reel by C.J. Box:
Wyoming Game Warden Joe Pickett and his wife, Marybeth, make separate discoveries that put the Pickett family in a pair of killers' crosshairs in this thrilling new novel in the bestselling series.
Groundskeeping by Lee Cole:
This is an indelible love story about two very different people navigating the entanglements of class and identity and coming of age in an America coming apart at the seams.
Outlander: Go Tell the Bees That I Am Gone by Diana Gabaldon:
In the latest novel of this epic series, war leaves nobody alone. Neither the past, the present, nor the future offers true safety, and the only refuge is what you can protect - your family, your friends, your home.
Save-It-Forward Suppers: A Simple Strategy to Save Time, Money, and Sanity by Cyndi Kane:
Transform leftovers from each meal into a fresh new dish and put a home-cooked dinner on the table every night with 100-plus recipes and 15 easy weekly menus.
Alex Delaware: City of the Dead by Jonathan Kellerman:
The past comes back to haunt psychologist Alex Delaware and Detective Milo Sturgis when they investigate a grisly double homicide and uncover an even more unspeakable motive in this riveting thriller.
The Summer Getaway by Susan Mallery:
A woman takes the vacation of a lifetime in this poignant and heartwarming story about the threads that hold a family together.
Run, Rose, Run by Dolly Parton and James Patterson:
This is a novel glittering with danger and desire, a thriller about a young singer-songwriter on the rise and on the run, and determined to do whatever it takes to survive.
 Love on the Santa Fe: Along the Rio Grande by Traci Peterson:
Recently widowed Susanna Jenkins has decided to follow her family to the booming town of San Marcial, New Mexico, for a fresh start and to aid in her family's sudden change in fortune.
The Unsinkable Greta James by Jennifer E. Smith:
An indie musician reeling from tragedy and a public breakdown reconnects with her father on a weeklong cruise in a pitch-perfect story about the ways we recover love in the strangest places.
Mission Possible: Go Create a Life That Counts by Tim Tebow:
The bestselling author and athlete believes that the secret to a truly meaningful life is not more comfort or ease, but recognizing the clear, unique mission that God has set before you. Having a focused sense of your personal, God-given significance will bring                                you a lasting sense of purpose.
February 18,  2022
Rogue Asset by Brian Andrews and Jeffrey Wilson: 
The secretary of state has been kidnapped by Islamic extremists and his only hope for survival is a reconstituted Presidential Agent team in this revival of W.E,B. Griffin's New York Times bestselling series
The Last Thing He Told Me by Laura Dave:  
This is a gripping mystery about a woman who thinks she's found the love of her life – until he disappears.
Making Numbers Count by Chip Heath:
How much bigger is a billion than a million? Well, a million seconds is twelve days. A billion seconds is…thirty-two years. Whether you're interested in global problems like climate change, running a tech firm or a farm, or just explaining how many Cokes you'd have to drink if you burned calories like a hummingbird, this book will help you translate the numbers that animate our world.
The Wish by Nicholas Sparks: 
From the author of The Longest Ride and The Return comes a novel about the enduring legacy of first love, and the decisions that haunt us forever
Quicksilver by Dean Koontz: 
#1 New York Times bestselling master of suspense Dean Koontz takes a surprising and exhilarating road trip with a man in pursuit of his strange past—mile by frightening mile.
Seasonal Work: Stories by Laura Lippman: 
This book is a suspenseful collection of stories featuring fierce women in tales of deception, dangerous games, and love gone wrong.
The Lady's Mine by Francine Rivers: 
Set in the California frontier, this is a sweeping, romantic tale of a displaced New England suffragette, a former Union soldier disinherited by his Southern family, and the town they join forces to save.
In Death: Abandoned in Death by J.D. Robb: 
Homicide detective Eve Dallas must untangle a twisted family history while a hostage's life hangs in the balance in the latest thriller by J.D. Robb.
A Shot to Save the World:
The Inside Story of the Life-or-Death Race for a COVID-19 Vaccine by Gregory Zuckernan:   This book takes us inside the top-secret laboratories, corporate clashes, and high-stakes government negotiations that led to effective shots. It is a dazzling, blow-by-blow chronicle of the most consequential scientific breakthrough of our time.
January 14, 2022
Counterfeit Lady: City of Shadows by Victoria Thompson:
In this all-new Counterfeit Lady Novel from USA Today bestselling author Victoria Thompson, newlywed Elizabeth Miles must use her unlawful skills to expose a dangerous charlatan.
Stephanie Plum: Game On: Tempting Twenty-eight by Janet Evanovich:
Stephanie Plum and fellow apprehension agent Diesel are on the trail of the same fugitive: Oswald Wednesday, an international computer hacker as brilliant as he is ruthless.
Jack Ryan: Chain of Command by Marc Cameron: 
How do you compel a man like Jack Ryan to bend?  He's personally faced down everything from the Russian navy to cartel killers, but every man has an Achilles heel. Jack Ryan's is his family.  A corrupt billionaire has assembled an international team of the most ruthless mercenaries alive. Their mission—kidnap the First Lady.
Dirk Pitt: The Devil's Sea by Clive Cussler: 
From the cold dark depths of the Pacific Ocean to the dizzying heights of the Himalaya Mountains, only Dirk Pitt and his children, Summer and Dirk Jr., can unravel the mysteries that will preserve a religion, save a nation…and save the world from war.
Happily Inc: Happily this Christmas by Susan Mallery: 
Successful business owner and single mum Wynn Beauchene is exactly where she wants to be. Lately, however, something feels like it's missing. Even worse is Wynn's attraction to the gorgeous policeman next door.  With his pregnant daughter coming to stay, Garrick McCabe has one last chance to repair their strained relationship. Except his daughter seems to have turned into the Grinch, and now Garrick needs Wynn's help to turn this festive fiasco around… before it's too late.
CAMP WOOD PUBLIC LIBRARY
New Additions to the Best Seller Shelf
December 15, 2021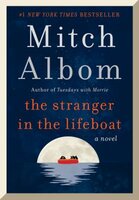 The Stranger in the Lifeboat by Mitch Albom: What would happen if we called on God for help and God actually appeared? In Mitch Albom's profound new novel of hope and faith, a group of shipwrecked passengers pull a strange man from the sea. He claims to be "the Lord." And he says he can only save them if they all believe in him.
The Epic Rivalries and Heroic Science behind the Race to the Coronavirus Vaccine by Brendan Borrell:
Heroic science. Chaotic politics. Billionaire entrepreneurs. Award-winning journalist Brendan Borrell brings the defining story of our times alive through his reporting on the players leading the fight against a vicious virus.
The Dark Hours by Michael Connelly:
In the fourth book of the series, LAPD detective Renee Ballard must join forces with Harry Bosch to find justice in a city scarred by fear and social unrest after a methodical killer strikes on New Year's Eve.
Fortitude:
American Resilience in the Era of Outrage by Dan Crenshaw:Our society is more fragile than ever: exploding with outrage, drowning in microaggessions, and devolving into divisive mob politics. The American spirit--long characterized by grit and fortitude--is unraveling. Fortitude is a no-nonsense advice book for finding the strength to deal with everything from menial daily frustrations to truly difficult challenges. More than that, it is a roadmap for a more resilient American culture.
The Brides of Maracoor by Gregory Maguire:
The first in a three-book series spun off the ironic Wicked Years, featuring Elphaba's granddaughter, the green-skinned Rain. This volume finds Rain washing ashore on a foreign island. Comatose from crashing into the sea, Rain is taken in by a community of single women committed to obscure devotional practices.
Mitch Rapp: Enemy at the Gates by Kyle Mills for Vince Flynn:
Mitch Rap, the CIA's top operative, searches for a high-level mole with the power to rewrite the world order in this riveting thriller, #20 in the series.
We Are Not Like Them by Christine Pride:
Told from alternating perspectives, an evocative and riveting novel about the lifelong bond between two women, one black and one white, whose friendship is indelibly altered by a tragic event--a powerful and poignant exploration of race in America today and its devastating impact on ordinary lives.
The Attic on Queen Street by Karen White:
Return to the house on Tradd Street for one last time as the bestselling series featuring psychic medium Melanie Trenholm comes to a hauntingly spectacular finale.